Hello everyone!
I wanted to write this post days ago, but I was busy writing applications and going to job interviews. Fun times!
***Warning! This post contains very bad blurry selfies!***

In between all this post graduate madness I managed to whip up these cute corduroy shorts, which I call "end of summer shorts" as they are short enough for the last sunny days, but due to the corduroy can also be worn with thick tights when it gets colder. Genius, eh?
By the way, it's number 13 of my 27 Dresses Challenge. For those of you who just happened to stumble across my blog: Yes, I do could shorts as dresses. Please don't ask me why.
Again, I used a Burda pattern (I see everyone rolling their eyes…). It's the Pleated Shorts 07/2013 #105A pattern. No idea why there is an A, B and C version, as they are all exactly the same pattern, just in a different colour.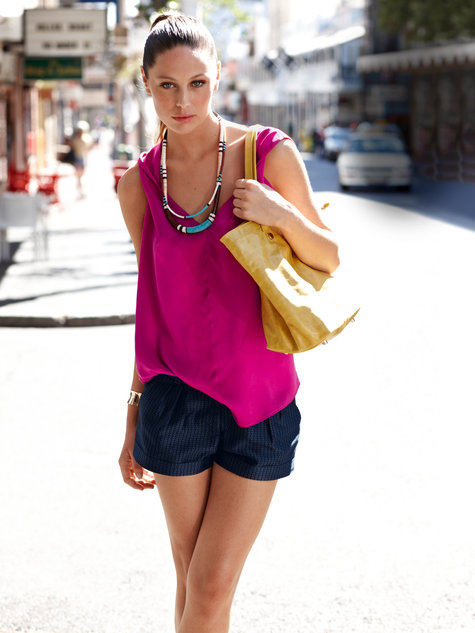 As my legs don't even remotely look like the ones in the picture above and I recently made the acquaintance of way too short shorts ( I won't go into detail, I promise) I thought it was clever to lengthen the pattern before making a muslin. (I don't always make muslins, but with trousers and shorts I always do, as – what can I say –  my butt is not easy to work with.)
Lengthening the pattern:
(Yes, parts of my dissertation drafts photobombed this picture and I don't know why.)
I drew a horizontal line and cut the pattern pieces in two.
I moved them apart by 4cm/~1,5inch and glued them onto a piece of paper (ah, now I know why the disso was lying there!)
I then cut out the muslin and sewed everything together, just to notice that the shorts looked really bad and way too long. Due to the pleats they just made my butt look huuuge. I didn't take pictures of the muslin, and trust me, you really don't want to see this.
I ended up removing the extra paper and glueing the pattern pieces back together. Now the shorts have the original length and I'm pretty much fine with that. At least I could show you how to lengthen a pattern. Yay 🙂
Here they are in all their glory:
I decided to make them a bit more fun by adding this flowery cotton fabric. I used it for the pockets, belt loops, and parts of the fly.
Since the cotton fabric was not as heavy as the corduroy, I cut out the pocket in corduroy and cotton and basted the two layers together before sewing.
I used a very narrow seam allowance, so the basting stitches are hidden in the final seam allowance.
After basting the layers together, you proceed like normally.
I wanted to have the cotton fabric on the left side, but ended up cutting it out wrong and did not have enough fabric to do it again…
I found this cute button in my button collection and thought it would look great on the corduroy fabric. What do you think?

First time I made belt loops! 
I got 15 different sewing machine feet for my birthday (from my lovely little sister) and decided to go pro and use them all as often as possible, haha.
But actually I noticed it made my sewing so much better! Look at this! Perfect stitching in the ditch. I never really managed to do this properly (so it doesn't show in the end) and had to sew on my bias binding or waistband by hand. But now that I have an edgestitch foot I can do magic.
I had this buttonhole foot before and use it whenever I have to make buttonholes. Just wanted to show it off:
It's really easy to use and if you don't have one – get one! They are inexpensive and absolutely worth it, if you're sewing machine does have a buttonhole setting.
Quick tip:
When opening buttonholes with a seam ripper, I always put a pin at the end of the button hole to keep the seam ripper from going through the threads and the end of the buttonhole. Works like a charm and nothing is more annoying than screwing up a perfectly sewn buttonhole, believe me!
I think these shorts might actually be the first garment that I sewed from scratch without any major catastrophes happening on the way. The only flaw: I cut out the waistband against the straight grain and it's really wobbly now, even after pressing it. (As you can see in the picture below).
I stitched a few straight vertical lines that are hidden by the belt loops to keep the waistband as straight and flat as possible.

Done!
By the way, I found these awesome shoes in a thrift store last week (completely new for 4 pounds only. Sigh) I love thrifting! It's inexpensive, you don't feel bad refashioning and cutting apart things you just bought and you do something for the planet by re-using things instead of buying new stuff all the time. 

I wish it weren't END of summer shorts, though. I really don't want the summer to end. There are so many maxi dresses I want to sew and already bought the fabric.
Did you make any autumn-inspired things lately?
  facebook/bloglovin/pinterest
Let's stay in touch!