Hi ladies (and gents)! Hope you had a great week so far! Mine was super busy and fun and I am greatly looking forward to the weekend which will be full of sewing events and crafts!
What you see here is #26 of my 27 Dresses Challenge which means there's only one more to go … in theory! Inofficially I've already finished garment #28, which I won't call #28 because I don't have to keep track anymore, ha! And I will do more refashion projects again (not counting them towards the challenge wasn't very motivating!). The piles of thrifted garments to be refashioned are taking over the flat.
#26 actually consists of two dresses. As the dress is made from polyester, I had to sew a slip dress to wear underneath and keep the fabric from clinging to my legs like a toddler. This is why it took me so long to blog this. The slip-dress-less dress was hanging in our living room for weeks until I was sick of looking at it, so I hung it in the closet, where I almost forgot about it. (Luckily, summer in London does require some long-sleeved garments)
The inspiration for this dress came from my recent obsession with Gabrielle Chanel and the fashion she created in the 1920's and 1930's. I loved the wide, comfy loosely fitting dresses which seem so effortless. I also really liked the femininity of the dresses despite the fact that their details were inspired by gents' clothing.
Those weird spots in my face are actually sunlight. I know, you don't take pictures in direct sunlight, but believe me, when you're living in London, you start appreciating any sort of sunlight. As I mentioned already, I used an off-white polyester fabric with blue stripes for the dress, combined with a navy polyester lining fabric (with a vintage map of the world print!)
The fabric was easier to sew than I thought at first. I managed to sew the layers without shifting or puckering – yay! The polyester was fraying like crazy, though. That's why I used the french seam technique to get rid of all the fraying raw edges. The neckline is bound with binding (made from the same fabric) and the hem I slip-stitched by hand.
I used a Burdastyle pattern. I saw this cute ruffle blouse in the 03/2014 issue and was about redraft it to a shirt dress, when I noticed that Burda had already done this for me!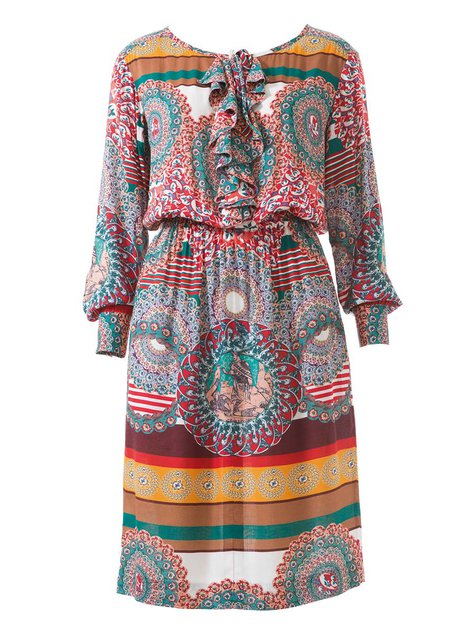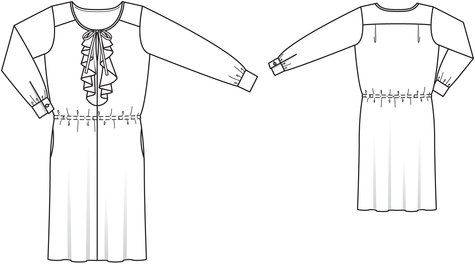 I wasn't too fond of the seam down the front of the skirt at first, but I managed to match up the stripes quite well, so that was fine. The fit of the pattern was very loose, but that's a good thing when it's warm outside, I guess.
I used the contrasting navy polyester for the yoke and cuffs to avoid looking like I walked straight out of prison (if I had to go to prison I would totally add some ruffles to my uniform!).
The dress has a casing for an elastic which cinches in the waist. (The belt is from Primark and it's my absolute favourite belt on earth!..which is why it's in almost every outfit picture.)
The 12mm off-white buttons are vintage and I had exactly four which was pretty convenient because this way I did not have to worry whether I should keep them for a later project.
Oh! And the shoes are DIY, too! They used to be a dirty white bargain from Primark, so I painted them black. Remember the other pair I refashioned? I have two more pairs sitting in a corner, waiting to get a makeover.
To be able to actually wear this dress I had to make a slip dress. I did this without a pattern. I made the bodice pattern by draping it on my dressform first and then used the muslin to make a paper pattern. The skirt is just a simple A-line.
The dress is cut on the bias and therefore is stretchy enough to go without any fastenings. It's very fitted and super comfy. I was scared of bias-cut garments, but I had no problems sewing this one together. You just have to be veeeeery careful not to stretch the edges out of shape.
The bodice is lined with the off-white stripe fabric I used for the ruffle dress.
The straps were easy-peasy. I just made a massively long strip of bias binding and started to bind off the edge at the centre back, going all the way up to the front, where the bias binding magically turned to straps which I sewed on in the back after cutting them to the right length.
While it was living on a hanger for weeks I didn't like this dress too much. But having worn it outside when it was super warm I started to love it!
After this week's crafting and sewing frenzy our living room looks shit, so I'll have to get back to tidying up a bit! Am I the only one? Sewing is such a messy business!
---
Happy sewing!
♥
facebook/bloglovin/pinterest
Stay in touch!