Hey folks, hope you all had a great week! Mine was super busy and I have quite a bit of the behind-the-scenes stuff to share with you. I'll probably squeeze into an extra post though, because I want to share my newest make first.
A little while ago, the lovely guys over at Funkifabrics (@funkifabrics) asked whether I'd like to try some of their fabrics. What a question! Hell Yes! You should really check out their website, they have the most amazing prints you will ever see! Seriously! It took me two days to narrow my samples down to 12, which I shortly afterwards got in the post.
The Fabric:
FunkiFabrics specialise in flexcite stretch (swim and dancewear) fabrics, so you will only be able to order lycra, but they have thousands (no kidding) of prints to choose from. Everything is designed and printed in the UK. Pretty awesome, if you ask me. Some might see the narrow fabric options as a disadvantage, but I think it's pretty cool. First of all, lycra is super versatile. You can use it for swimwear, lingerie, leggings, dresses, skirts, sportswear and what not. Secondly, since the fabric is the same for all prints, it's perfect if you want to mix prints and colours. You won't have to worry about two fabrics not going well together. I picked a print called Prism. My challenge this year is to use more bold prints and colours. I think with this project I definitely achieved that.
At first I wasn't sure what to make with it, but then I realised that I could simply use a jersey/stretch dress pattern. It's just not the right season for sewing bikinis, you know (but I will with some of the leftover fabric). So let's talk about the pattern:
The Pattern:
The pattern is…tada!…Burdastyle 04/2014 #112. Yes, I know! I haven't used Burda patterns in ages. Lately I was all over indie patterns, but if you've followed this blog for a while now, you will know that I am a big Burda pattern fan. Since the print was so funky I thought I needed a slightly more funky dress pattern as well. Luckily, I recently went through all this year's Burda magazines and this came to mind: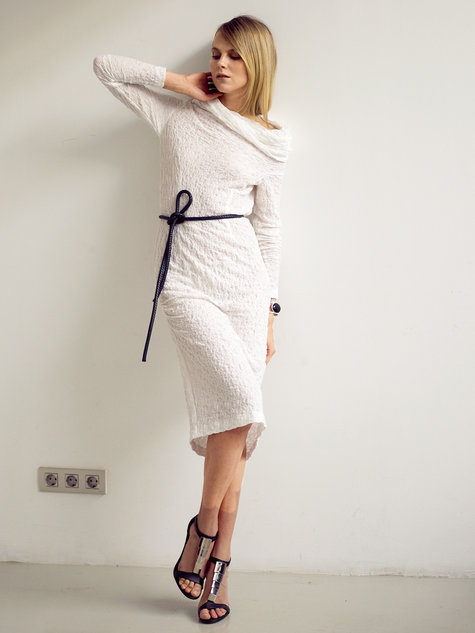 It's a funnel neck dress with a twist. It has all sorts of design details going on. The whole dress piece is cut as one on fold. So there's only one side seam, which is gathered at the hip and makes the hem slightly asymmetrical. One sleeve sits off-shoulder – since there is no side seam on that side there's no shoulder seam. The sleeve is inserted by clipping the fabric horizontally and then using a very tiny seam allowance to attach the sleeve (which has no sleeve cap). The dress pattern itself is basically a large rectangle, darts in the front and back cinch it in at the waist and make it more fitted.
Adjustments: I shortened the dress by 20cm and lengthened the sleeve by 5cm. I cut out facing for the funnel neck instead of simply hemming it. I cut out a size 36 (UK 10) which I graded to a size 40 from hip downwards.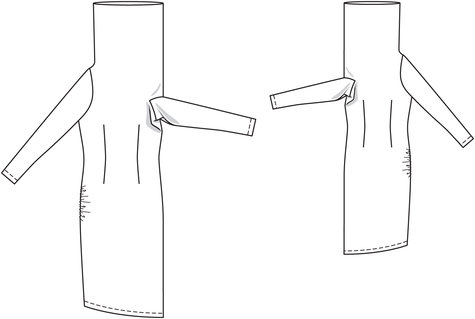 The Fit:
It's quite hard to say something about the fit. Since the pattern is quite funky, I have no idea how this dress is supposed to look. It fits comfortably, but I am not so sure about the off-shoulder sleeve. Design details like this always have you end up with a batwing -like bunch of fabric  under your armpit. Despite all the darts, it's not extremely fitted and the funnel neck does not behave and keeps moving around, that naughty bastard.
Issues:
There were loads of issues with this make. Luckily, I could fix most of them. I had some issues with the gathers at the hip, as they came undone when I overlocked the side seam. I should've used some twill tape for reinforcing that part (or learn how to gather with an overlocker). But in the end I could salvage it and it doesn't look too bad. The print is way too busy anyway for people to notice.
I lengthened the sleeves by 5cm in the front, because I like that slouchy look. One thing that I really need to practise is sewing the hem on stretch fabrics with my twin needle. I used a smaller twin needle (3mm) for the sleeves and a larger one for the hem (4.5mm). Normally I don't have issues with my twin needle, but this time the bottom thread tension was to high and my stitching looks like piping now. It sort of looks ok, so I am not too unhappy about it. A friend of mine told me that it's actually possible to fiddle with the tension somewhere at the bobbin case, I have to find out how! After all these years, my sewing machine still keeps secrets from me.
Another issue I encountered was this. Since the back of the fabric is white, the funnel neck ended up looking very awkward and I didn't like that the left side of the fabric was showing through. I thought I could simply fix this issue by facing the funnel neck. Which I did. Now it sort of looks ok when it is all nicely pulled into place.
But when I bend over and all the fabric moves to the front, this happens:
Well, I have accepted this fact now and it didn't bother me too much when I wore the dress. It's super comfortable! And look, even my shoes' lining matches the dress!
I have almost 1m of the prism print left and am now thinking of what to do with it. Not an easy decision since the print is so recognisable. Maybe a bikini or some really funky knickers. I will let you know anyway! Over all, this project was super fun and also quite challenging as I struggled a bit with some of the design details. Nothing is more satisfying than salvaging a sewing fail. I quite like the way the fabric and pattern work together, I never would've believed that lycra is such a great dress fabric.
What would you have made from this fabric?
---
Happy sewing!
♥
facebook/bloglovin/pinterest
twitter/instagram
Stay in touch!