Whoop, whoop! I can't believe it – dress #5 of my 27 Dresses Challenge is finished already, but it took longer than expected.
It's a sleeveless "I call it summer-in-the-city" jersey dress with cascading pleats in the front and an asymmetrical hemline. Let the pictures speak (unfortunately I forget to take one from the back, because it looks quite pretty):
I used the #144 Burdastyle pattern of the February 2013 issue (it's the one on the cover). I changed the pattern a little (of course!) to make it look more fun.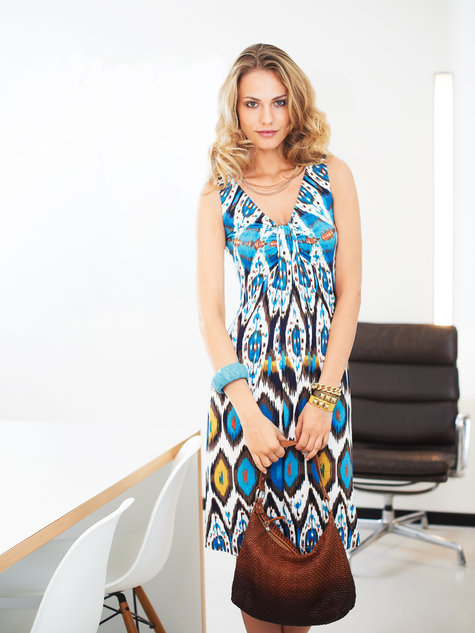 The original was a bit too long for my taste and the awesome fabric I found needed something more edgy. I shortened the hemline and cut the pattern to an asymmetrical hemline (I'll explain how to do that in an extra post!).
When I saw the fabric it was love at first sight. I got it in my (newly) favourite fabric store near Walthamstow Central (London). The print is crazy! Basically, it's full of fun phrases that just don't make any sense (the part I like most 😉 ).
"Trust me Johnny I'm the superman" is definitely one of my favorites.
It was my first time sewing with very elastic jersey. The elastic part was not that bad at all. My sewing machine has a pretty good variety of stretch stiches and I didn't have any problems with handling the stretch. What was bugging me all day was the rubberised print. Not the print itself (which is awe-some!), but the rubber part of the letters. My machine's feed dog and presser foot couldn't really handle the rubbery parts of the fabric. The fabric would permanently get caught and I had to start all over again. Some of the seams (ride sides together) were fine, but everytime I had to sew right sides facing up it almost drove me crazy. In the end I had to handstitch the hem. I wish it would look better, but there was no way I could have done it with the machine.
Lots of aggression had to be repressed to keep me from burning that fabric. Seriously. I could have been done maaany hours earlier.
However, in the end it was worth the trouble. The dress fits snugly and beautifully and I can't wait for the sun to come out.
this post was featured: